It's summer. The birds are singing, the bees are trying to have sex with them (as is my understanding). So maybe I can be forgiven for being caught unawares by this letter, which was delivered to me in the dark of night by a cloaked rider astride a fire breathing horse. (h/t to
Jeff
)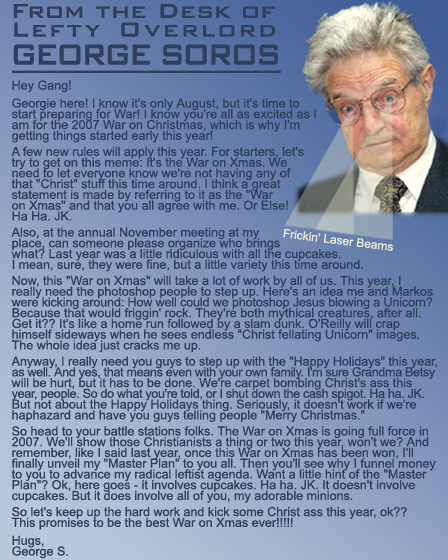 Talk about a sneak attack. Will the right be prepared for us? No chance. An early strike is just the thing we need to make the putative 90% of Americans who are Xtians question their deeply held beliefs. Jesus blowing a Unicorn? Brilliant! Even the strongest faith will be shattered by that. If not, then saying Happy Holidays will certainly finish them off.
Of course, my War on Xmas decorations are still in the basement gathering cobwebs. Santa Cthulhu Itself lies dreaming in R'yleh (under my stairs). It is August, after all.
Considering that I am not on the receiving end of any of that Soros money (or cupcakes), I'm going to let the paid sock-puppets start the early work. I'm more of a guerrilla fighter in this war. Although I do go by the title "generalissimo." Look for me come November, after I've finished my Satan worshiping at Samhain.
Fine. My opening salvo. To Bill O'Reilly, I wish Happy Holidays and
prospero año.
(see, it's Happy Holidays, which Bill hates, and then Spanish, which Bill also hates)
.


Your Unpaid leader.
